(I've since released a newer version of this software, which you can find here)
Just a quick post about a project I've been working on over the weekend: SpaceEditor.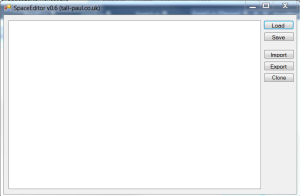 This is a basic savegame editor for the really rather excellent 'Space Engineers' (which you can find on steam here: http://store.steampowered.com/app/244850/?snr=1_7_15__13)
The game itself is a bit basic at the moment, it's still in 'early Alpha' stage, so there's not actually a great deal to do other than build ships and crash them into things. One thing that's conspicuously missing at the moment is the ability to save / load your creations. You can save a whole 'world', but extracting your design from that world just isn't enabled…yet.
That's what this tool is aimed at. The current feature set is:
Load a save game (you need to browse to the 'SANDBOX_0_0_0_.sbs file in your savegame folder)
Export any ships from that game into files (Make sure you have a ship entity selected in the tree before you press this!)
Import ship files back into a save game
clone a ship within the world (again, you have to have a ship entity selected!)
And it lets you do stuff like this: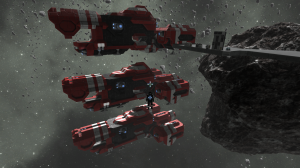 I'll be open sourcing the project as soon as I've tidied it up, but for now you can grab the executable here:
*UPDATE* check here for the latest version: http://www.tall-paul.co.uk/category/coding/space-editor/
WARNING: this should be considered even more pre-alpha than the game itself. If it completely mangles that ship you just spent 3 days building, don't say I didn't warn you. Because I did. Just now.
Edit: New version released, this should be much quicker at loading…. I've updated the download link.