Another day another release….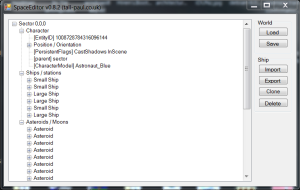 I noticed this morning that I'm not handling the player character very well. If you're piloting a ship when you save, then load that save into SpaceEditor, then save… it loses the player character, and corrupts the save. Not very useful. So, my longterm goal (ie: in the next day or so) is to properly handle the player character, and let you pick a ship to control, or dump him (you) in the depths of space as you see fit. For now however, this release just refuses to load a save if you're piloting a ship.
Also, I've made the treeview a bit nicer (changed the entity IDs to useful names like 'Big Ship' etc) and added a 'delete' button (by popular request).
Enjoy!
[wpdm_file id=16]