One of the things that's always annoyed me about Magento is the dearth of decent, free shipping modules available for the system. Out of the box you can do a reasonable amount with regards shipping, setting a flat rate or using one of the built in shipping methods…but if you want to do anything fancy (and in my experience, people always do) then you need to pay out for one of the many customisable shipping modules available.
It's been nearly a year since I last looked at Magento, but a recent freelance project has meant me getting back into it and as the client has some very specific shipping requirements, I thought I'd write my own shipping module. I spent a few hours fiddling with config files, before rememebering why Magento always annoyed me so much (hint, it's the config files) and used the rather brilliant magento module generator to get me started.
Here's what I wanted from a shipping module:
Different shipping rates for individual products
Different shipping rates to different countries
Easy assigning of shipping rates to products
So, to tackle these problems I came up with a module that uses Shipping rules defined through categories. This means you can setup your rules, and then use the standard product / category concept in Magento to assign your shipping rates.
Once you install the module (see below for a download) each category gets a new attribute under its 'general' tab, named 'Shipping'. That's where you enter your rules. Rules are extremely simple, and consist of a series of lines, each of which is made up of 'country code' = 'price'
here's an example of one ruleset: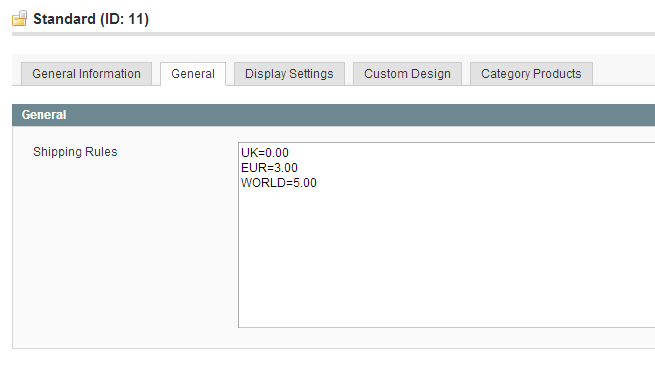 This translates to 'If the delivery address is in the UK, free shipping. If it's in the European union, shipping is 3.00, for the rest of the world it's 5.00'.
You can have as many lines as you want (they're processed top to bottom) and if you have multiple items in your basket that produce different shipping rates, the most expensive rate is picked (there's no option to sum the rates together yet, I might add that in at some point).
You can add these rules to your actual, published product categories or do what I've done for this client and set up a seperate tree of 'Shipping categories' like so: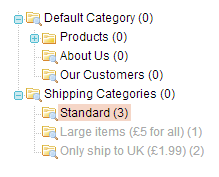 So there you go. Bit basic, but does what I needed it to do.
Here's the download link (upload the 'app' folder from the archive into the root of your magento installation):
[wpdm_package id='984′]