One of the perks of my job is that I get to work from home and, as a result I managed to talk my boss into forking out for a new laptop for me.  After some consideration I went for the Asus UX32A, which is a halfway house between an ultrabook and a standard laptop.
 It's much cheaper than an Ultrabook, but Asus have obviously cut some corners to meet that price point.  The screen is a little disappointing, and it only comes with 4GB of RAM (although you can upgrade one of the modules for a total of 6GB).  More importantly though, instead of an SSD Asus have opted for a 'hybrid' disk approach with this model.  It has a standard 500GB hard disk, and a 24GB SSD which is used as a cache or buffer between the disk and the rest of the machine.  The theory is that this allows much quicker access to things that you use regularly, while still aloowing the relatively huge storage space of a disk.
The only problem is, this isn't enabled by default!
I was struggling to find out how to activate this feature on my new machine, but some quick googling led me to realise that I needed to install the 'ExpressCache' software from Asus  (it's actually a piece of software by a 3rd party company, but you need to Asus licensed version to run on the UX32A).  However, here I hit another problem:  the only link I could find to this software was a dead one.
Luckily Asus actually include this software on the hard drive (it's just not installed, for some reason that I'm sure made sense to somebody) but if you've formatted your disk worry not, I'll include links to the software at the bottom of this post.  Here's how to install it:
1: first off, you need the intel 'Rapid Storage Technology' Driver to make Expresscache work.  Helpfully, Asus also include this on the hard disk at:
C:\eSupport\eDriver\Software\Others\Intel\IRST\Vista64_Win7_64_Win8_64_11.5.0.1207
So install that (your computer probably needs a reboot after that install).
2: Now install the expresscache software which you can find at:
C:\eSupport\eDriver\Software\Others\other\ExpressCache\Win8_64_1.0.86
run the 'setup_x64' executable in that directory.  And then do another reboot when prompted.
When your computer restarts you should be running expresscache (yay!).  However, there's nothing in your start menu (or start screen, whatever) to indicate you've installed something new, so how to check that expresscache is installed and working?  Well, for that you need to run a command line program.  Open up an administrator command prompt, navigate to:
C:\Program Files\Diskeeper Corporation\ExpressCache
and run 'ECCmd.exe -INFO'
you should hopefully see some output like this: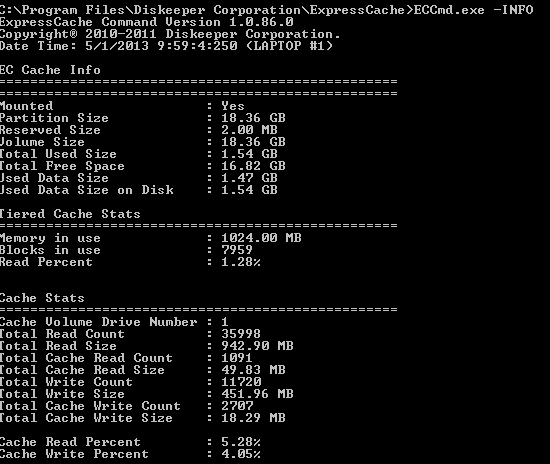 As promised, here's the files you'll need:
[wpdm_file id=11]