Just a quick post today about how to solve a common (maybe) frustration…
My setup when I'm working is that I sit at my desk in the kitchen, with spotify open to have some nice background music going on. However, my nice amp with its decent bass levels and all the rest is sat in the living room. That's not really a problem, since I have one of these which allows me to play music from my laptop via bluetooth to the amp. However, the standard setup in windows means that you have one 'default' sound device, and that's the one that spotify uses. So if I want my system sounds to come out of my laptop speakers (rather than, for example, conducting skype conversations via my amp) it means I have to play music through the laptop speakers as well.
Until I found this:
With the simple addition of this rather wonderful piece of (free update: equalify is no longer free according to comments from readers, it now costs $5) software I can happily play spotify through my amp via bluetooth while keeping everything else through my 'default' laptop speakers.
Here's how it works. First, in windows select your default audio device. Remember, this should be the device you want everything except spotify to play through.
The easiest way to do this is to right click on the volume mixer icon in your taskbar and select 'playback devices'. You should see a window like this: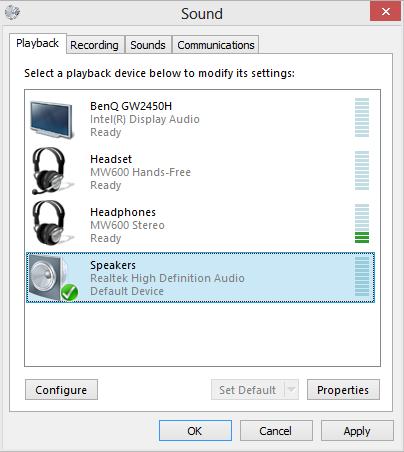 right click on the device you want to use as the default (if it isn't already set as such) and select 'set as default'. Again, remember this is the device you want to play everything except spotify through.
Now, download and install equalify from here: http://www.equalify.me/?page=download
Once it's installed, fire up spotify and you should see a new icon next to your search bar, like this:
Click it, and the equalify window should open at the top left of your spotify window. Right click on the equalify window and wight click to activate the context menu. Select 'options' and then 'change sound device' like so: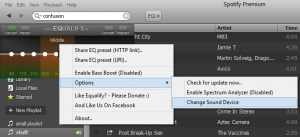 From the window that pops up, use the drop down to select the audio device you want to use and then click 'Set New Output Device':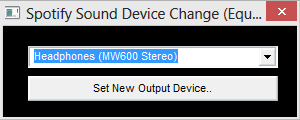 Now restart spotify.
And that's pretty much it, spotify should now play through the device you selected.
As well as allowing playback through different audio devices, equalify also acts as an equaliser… if you like that sort of thing.